Focus as an artist on pure creativity

Enter Sculptris, a fun and engaging way to start off your digital sculpting journey!

If you're new to the world of digital sculpting, Sculptris is the ideal ground on which to get started. If on the other hand you're experienced in CG, we offer you ZBrush.

With our award-winning software, ZBrush, released more than a decade ago, Pixologic, makers of ZBrush and Sculptris, has become recognized for bringing ground-breaking innovations into the world of digital art.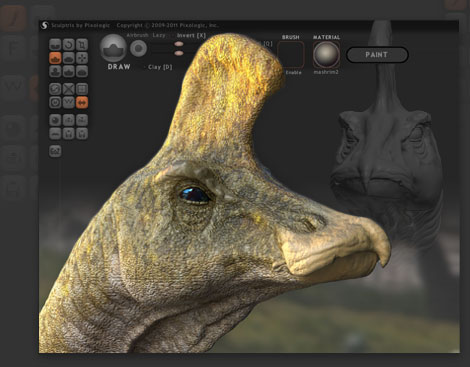 Sculptris provides an excellent gateway into the exciting world of 3D. Its features are easy to learn, even for someone with no experience in digital art, yet robust enough for creating base models that can then be refined in other applications, such as ZBrush.

Take your art to the next level

ZBrush is the most widely-used digital sculpting application in today's market and is the industry Standard. When you're ready to take your Sculptris creations to the next level for detailing, rendering and integration into even the largest of projects, we welcome you to ZBrush with its host of robust, unique and revolutionary tools.

When you're ready to take art to the next level, the skills that you've learned in Sculptris easily translate to ZBrush.
Explore the World of Sculptris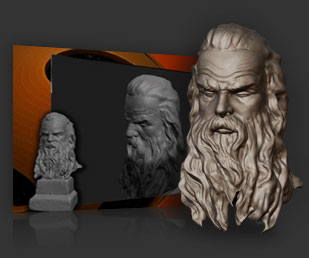 Introduction to Sculptris
Start with a sphere of virtual clay and shape it into whatever you want it to be. This is made possible in Sculptris by its amazing ability to locally redefine the internal structure of the model.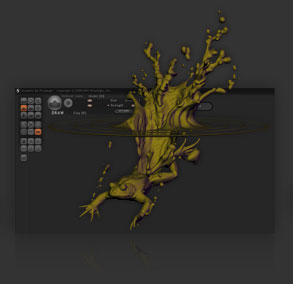 3D Sculpting
In Sculpt mode, you can edit the mesh geometry with simple brush strokes. Think of this like using sculpting tools on a lump of real-world clay.