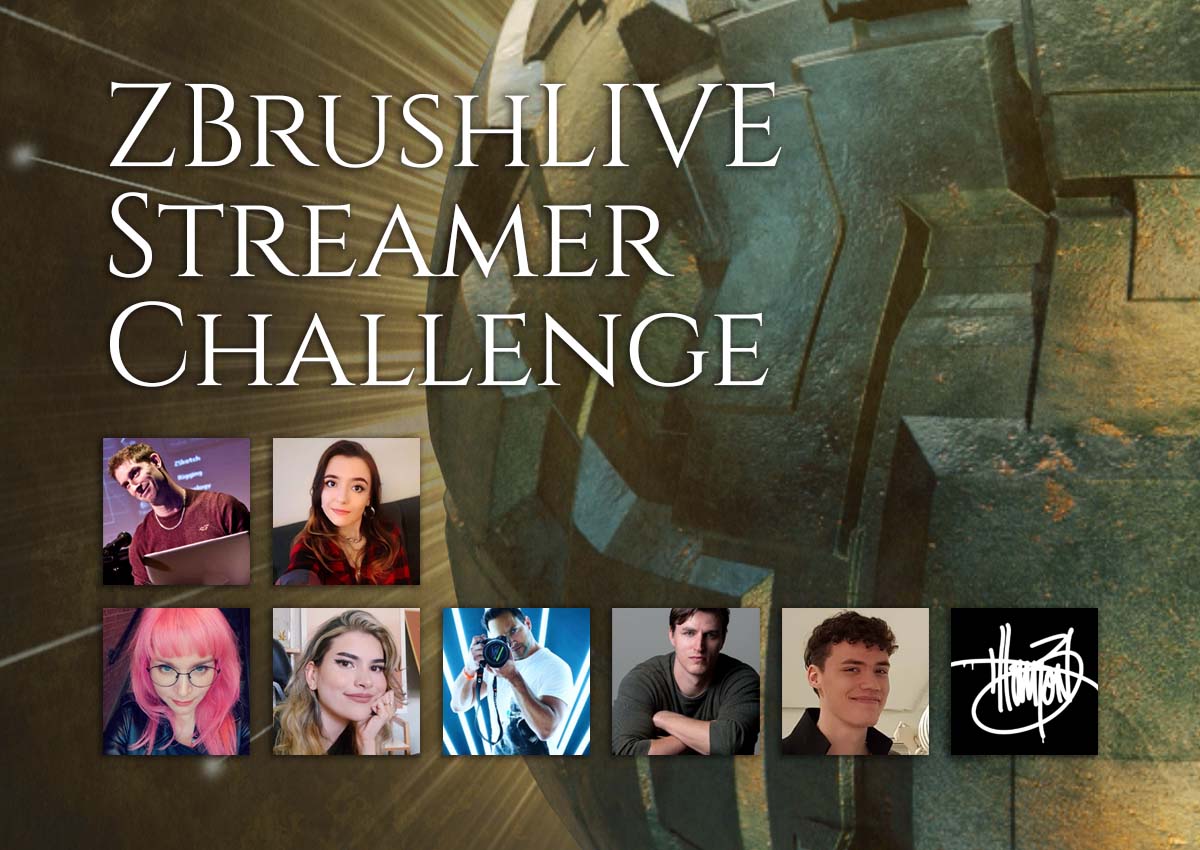 ZBrushLIVE Streamer Challenge – Group 1
Join us as six of our ZBrushLIVE streamers face off in the first ever Streaming Challenge! All six streamers will be sculpting based on a theme provided by Pixologic. We will be displaying all six of their ZBrush screens and web cameras simultaneously. Don't miss this opportunity for a very interactive event that embraces the daily streams that take place on ZBrushLIVE. Pixologic's Paul Gaboury and guest host Ashley A. Adams will also be joining all six streamers to interact with the streamers during the hour challenge.
Theme: Reimagine!
Imagine a world in which YOU have been given the task of bringing an iconic character to life. This is exactly what happened in 1931 when Coca-Cola commissioned illustrator Haddon Sundblom to paint Santa for Christmas advertisements and the result was the figure in the red coat with white trim and black boots that we all think of when someone mentions Santa Claus today.
Your task is to choose any famous fictional figure and imagine that you have been given free rein to design them from scratch in any way you see fit. Use the power of ZBrush to throw off the shackles of what everyone "knows" that the character should look like and come up with an entirely new design that remains true to the spirit of the character but lets us view them in an entirely new light.
Examples: What if Alice in Wonderland was a wise old woman? What if Dracula was a cyborg that used needles in his fingers to draw blood? What if Frankenstein's Monster was created from animal parts instead of people?
Hosts:
Paul Gaboury & Ashley A. Adams
Featured ZBrushLIVE Artists:
Ana Carolina Pereira
Daniel Enrique De León
Ian Robinson
Luc Tschopp
Mike Thompson
Alina Ivanchenko
ZBrush links for more information:
Try ZBrush in Maxon One for Free: ZBrush Trial
Download our free version: ZBrushCoreMini
Visit our site: ZBrush Home
Visit our store: Get ZBrush

Follow & Subscribe to us!
YouTube: https://www.youtube.com/PixologicZBrush
Facebook: https://www.facebook.com/Pixologic/
Twitter: https://www.twitter.com/Pixologic/
Twitch: https://www.twitch.tv/Pixologic
Instagram: https://www.instagram.com/maxonzbrush
Official ZBrush Discord: https://discord.gg/2g9ah6u